We make things visible®
We provide visualization and debugging technology for electronic circuits and systems, including schematic generation for all major design levels. Our technology helps electronic design engineers to easily understand, debug, optimize and document electronic designs. Please check out our products for electronic design engineers and for EDA tool developers. Our software technology is used in many fields in the EDA market, including: RTL development, IP reuse, ASIC and SoC design, FPGA design, analog/mixed-signal design, logic synthesis, design verification, test automation, post-layout analysis, debugging and visualization on system-level, RTL and netlist-level.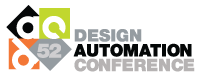 Design Automation Conference (DAC) 2015
Moscone Center, San Francisco, CA
Booth 2210, 2208
June 8-10, 2015

Concept Engineering Presents Version 6 of All Debugging Tools for Analog, Digital, AMS and SoC Designers at DAC 2015
Freiburg, Germany - May 29, 2015 - Concept Engineering, specialists in visualization and debugging technology for electronic circuits and systems, will demonstrate version 6 of the company′s Vision product line to designers of analog, digital and mixed-signal circuits at the 52nd Design Automation Conference (DAC). Press Release.
Concept Engineering Introduces S-engine™: Automatic System-Level Schematic Generation Capabilities Combined with IP Editing and Assembly
Freiburg, Germany - May 22, 2014 - With S-engine, Concept Engineering introduces a radically new concept of system-level visualization and smart editing technology. EDA tool manufacturers can now easily create modern system-level and IP-centric design and visualization tools. Press Release.
Connectivity Package Links Concept Engineering, Verific Design Automation Tools
Freiburg, Germany, and Alameda, California - May 1, 2014 - Electronic Design Automation (EDA) component software leaders Concept Engineering and Verific Design Automation today announced immediate availability of connectivity package that links Concept Engineerin′s Nlview™ schematic generator and visualization engine with Verific's netlist database. Press Release.
More Success Stories / Customers
Check out our Press Archive to see why leading EDA vendors and semiconductor companies choose our advanced visualization and debugging technology to power their EDA tools and improve their design flows.